Outstanding Carrollton Plumbers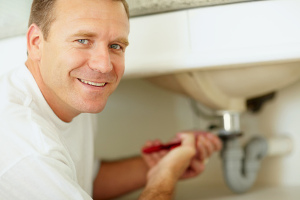 Plumbing is something we use every day and which most of us know little about. Most homeowners are familiar with Carrollton plumbers, who come to their homes to unclog a drain or install an appliance. When construction plumbing techs install piping in a home, for example, they work from drawings, blueprints and years of experience that will allow them to find the location of pipes, plumbing fixtures, and appliances in Carrollton, TX.
Water can enter your home through a pipe that connects either to a municipal water line or a private well. Faucets in your home are more apt to require more repair than non-moving fixtures. The less strain you put on your faucets, the less frequently they need repair.
If you're looking to deal with your water (leak) problems, count on Jar-Dab Plumbing, Inc.. Your water troubles can be resolved very quickly as we will work hard to get to the root of the problem. Our installations and repairs are guaranteed to make your leak less of an issue.
From water heaters that are not working and leaking to pipes inside the walls that are ready to burst, you can count on us to attend to them in a timely manner. You'll save money as our plumbing techs won't waste your valuable time.
Plumbing Repairs in Carrollton, TX
There are benefits of hiring a plumber in Carrollton for plumbing repairs. Plumbing is very challenging work that should always be met by a homeowner. The following reasons are why you should hire a professional as opposed to doing them yourself:
Faster service
Take on tough repairs
Has knowledge when it comes to plumbing issues
There are many reasons to hire a professional plumbing contractor from Jar-Dab Plumbing, Inc.. You'll find that they can attend to your Carrollton plumbing repairs whenever you need them to. You won't waste half your day waiting for them to show up as plumbing problems don't have a scheduled time to happen.
Carrollton Drain Cleaning Service
Plumbing maintenance is something that we should all be mindful of because it helps to save money. Most people these days are on a tight budget. If your drains get clogged, don't turn to drain cleaners. Turn to professional Carrollton drain cleaning and save.
Drain cleaning takes the effort of someone that knows their way around plumbing equipment. You will find that Jar-Dab Plumbing, Inc. has over two decades worth of experience and wants to help your drains whenever there is something blocking them.
Call our Carrollton plumbers today at 972-625-0083 and schedule your drain cleaning. You'll be amazed at what we DON'T leave behind. We will see to it that your drains are professionally taken care of and last longer.