Professional Coppell Plumbers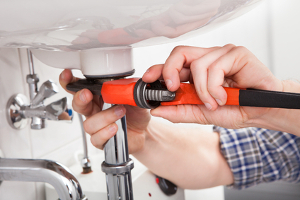 If you have a need for a professional Coppell plumber to assist you with your home plumbing needs, there is only one clear choice as a resident and that's Jar-Dab Plumbing, Inc.. We have many years of experience and knowledge in the plumbing industry and can provide you with the quality services that you need for your home.
Whether you are seeking to have a new plumbing system installed or your old system repaired you can count on the expert staff at Jar-Dab Plumbing, Inc. to provide you with the quality plumbing services that you need in Coppell, TX.
Professional plumbing techs are often times overlooked in many places. A place that is just as plagued as any other when it comes to plumbing concerns. Home owners instead opt to grab their plungers from the cabinet and assume it will solve whatever problem it is their facing.
On some occasions, it aggravates the situation, and forces our clients to call a reliable plumbing tech in. Contacting a plumbing tech from Jar-Dab Plumbing, Inc. regardless of the problem will oftentimes lead to less property damage and a smaller repair bill.
Plumbing Repairs in Coppell, TX
What many people don't know is that their plumbing is one of the most valuable things in the home. You should value things like a well-structured wall, a kitchen floor without any wear, and plumbing without any flaws. If that sounds more like a fantasy than anything else; you need to come to Jar-Dab Plumbing, Inc. for plumbing repairs.
Coppell plumbing repairs can be done on your time. We are here to tell you the longer they are put off the bigger your plumbing problems will become. We can save you lots of headaches. Come to us and see how.
If there is one thing that our Coppell plumbers know about, it's repairs. Repairs are the necessary medicine that your plumbing needs. Just like humans need medicine to get better after a cold or flu, your plumbing needs the right medicine to function better.
Coppell Drain Cleaning Service
Most homeowners don't give a second thought to their drains. Most dump foreign solvents and items down onto them that do not belong there. The end result is that of a major clog. A clog can backup into your home and cause lots damages.
We have state of the art equipment specially designed to help us thoroughly unclog your drains. You'll get back that peace of mind that's been missing from your plumbing for so long. Call today and make an appointment for drain cleaning in Coppell.
Our drain cleaning method works for our customers and so does our repairs. We employ the best customer services and craftsmanship to each project that we are on. Call to have our Coppell plumbers arrive at your home today.