Dedicated Little Elm Plumbers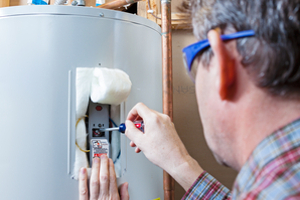 Looking to hire a Little Elm Plumber? Then you need to have a skilled professionals that has years of experience and knowledge in the industry and can provide you with the solutions that you need for your homes plumbing repairs and installations. A plumbing tech should be experienced and knowledgeable about all types of home plumbing needs like the skilled experts at Jar-Dab Plumbing, Inc. who are the plumbing experts for the area and have provided countless homes with the quality plumbing services that they need.
Water tanks such as electric and gas ones will provide you with an inexpensive and efficient way to get hot water whenever you need it. But -if your current tank is showing signs of aging, you're going to need a professional plumber for repairs or a replacement in Little Elm, TX.
An electric or gas water tank that's aged will start to show signs of degeneration after 15 or more years. It all depends on how much preservation and repairs have gone into it over those years. A good tank will last more than a decade if kept up with.
Plumbing Repairs in Little Elm, TX
Plumbing repairs for your hot water tank or any other part of your plumbing will make them better again. Our Little Elm plumbers promise that you will no longer be without hot water or a working plumbing component. The following are signs of a tank gone bad:
No to little water
Will not heat water
Residue
Rust at bottom of tank
If you notice any of these signs or on other areas of your plumbing, call Jar-Dab Plumbing, Inc. right away. We will be out to attend to your Little Elm plumbing repairs conveniently and discretely as we pay close attention to our customer's problems and troubleshoot them right on the spot.
Little Elm Drain Cleaning Service
One thing that you should know about your drains is that you should never have drain cleaners used on them. Doing so will only lead to toxins in your water supply. This will eventually cause your drains to need replaced, which can be costly.
Little Elm drain cleaning uses progressive equipment to get the job done. Your drains are something that should not be blocked by anything and have a free flow to them. Allowing our plumbing techs into your home will give you an advantage over others.
Safety is always an objective of ours on all projects we do. We'll protect your home or business from those plumbing dangers that you hear about but never want to experience.