Water Leak Repairs in The Colony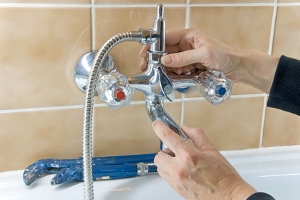 Leaks can occur in both old and brand new HVAC systems mostly due to the fact that they may have not been completely flushed prior to installation. Either old sludge or corrosive installation debris remains within the radiator leading to metal corrosion which eventually creates very small holes which lead to leakages. A leaking pipe is never a fun problem to have to deal with. However, there are ways to do deal with them whenever they occur. Whenever a leak pops up in your household; call the plumbers at Jar-Dab Plumbing, Inc. for The Colony leak repairs.
Reasons for Leaks
There are many reasons why leaks can occur. Sometimes a low-grade craftsmanship for the pipes and the fittings are attributed to leaks. But all too often, end up causing huge messes that damage the interior of homes in The Colony.
Dripping faucets and toilets can cost you lots of money each month. Each month your energy bills go up as a direct result of a leak and sometimes skyrockets depending on the leak itself. You may not possess the right tools to tighten the leak.
Damaging Water
Pooling water is an obvious sign of a leak. All too often, leaks are not noticed until they end up damaging or flooding out areas of the household. Homeowners are then faced with added expenses they had not planned for. Water leaks can be found in all areas of the home including:
Floors
Ceiling
Walls
Property
Attending to Leaks
If a pipe is leaking, rather than risk further damage through performing even the simplest of home repairs, call our professional The Colony plumbers as soon as possible. We have the knowledge and experience to fix your plumbing problems correctly.
The meter in your home should be checked often because it is a good sign that there is something wrong. Leaks do not have to be visible for us to see in order for higher water bills. Your meter is a device that will alert you to them and other problems.
Water Line Damages
If you are starting to see swampy or wet unexplained areas of the home and near the water lines, it's a good call to contact the professional plumbers at Jar-Dab Plumbing, Inc.. We will attend to your leaks and troubleshoot other areas of your plumbing.
Call our well known plumbers in today for The Colony leak repairs and live with the peace of mind that you deserve as a homeowner. Living with a leak is frustrating and not to mention expensive. Contact us upon first site of one.
The Colony Leak Repair Technicians Provide:
Slab leak repairs
Water leak repairs
Toilet leak repairs
Leak detection and repairs
Water leak detection
Water line repairs
Water pipe leak repairs
Plumbing leak repairs
Leaking pipe repairs
Pipe leak repairs
Faucet leak repairs
Leak detection
---
Recent Leak Repair Related Articles
Leak Detection Services: Leave It to The Colony Experts

Leak detection problems for sinks and faucets are a common issue faced by people at home and the workplace. It is very tough to handle complex leak issues occurring because of faulty water supply systems or gas pipelines. People often need professional leak identification services for […]