Trustworthy Denton Plumbers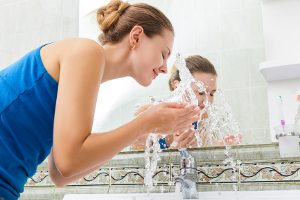 Looking to have a skilled professional assist you with all of your home plumbing needs? Then give the expert staff at Jar-Dab Plumbing, Inc. a call and see what they can do for your homes pumping needs. Having years of experience and knowledge in the industry our skilled and professional Denton plumbers can quickly assist you with your homes plumbing as well as your commercial dwelling's too.
The expert plumbing pros that are part of the Jar-Dab Plumbing, Inc. team have many years of experience and knowledge and can provide you with the quality services that you need for your home in Denton, TX. If you are in need of plumbing installations or repair then give the experts a call today.
If it sounds like there is water running underneath your feet, it should not be. If all of your faucets and showerheads are turned off, call Jar-Dab Plumbing, Inc.. You could have a possible leak which can lead to major damages.
We take care of your leaks professionally as our leak repair service is very popular these days. Corroded pipes are known to go bad and spring leaks the most inconvenient times if day, like when you are getting ready for work.
Plumbing Repairs in Denton, TX
For Denton plumbers who can take on all types of plumbing repairs from minor leaks to major ones, you can depend on Jar-Dab Plumbing, Inc.. We offer our repairs at all times of the day because we know that your plumbing will only get worse. We can care for the following areas of your plumbing:
Pipes
Drains
Toilets
Sinks/Faucets
When it comes to repairs for the plumbing, we do them right so that you won't have future plumbing bills which are not even of the earth. We will take care of your Denton plumbing repairs before they get worse and out of control. Call today and let our guys repair your issues.
Denton Drain Cleaning Service
There are countless of ways in which our plumbing company can attend to your drains without ripping your yard up or destroying your interior. Getting to a major clog takes the effort of licensed and trained plumbing craftsmen.
Denton drain cleaning can be done to completely clear out your drains when there is something blocking it from the inside such as toilet paper, child toys and others. We can also take care of your drains when there is something blocking it externally such as a tree root.
When it comes to drain cleaning and plumbing repairs, it's very important to realize just how much of an impression that our techs leave behind. For ways in which our Denton plumbers can help you, call Jar-Dab Plumbing, Inc..