Trust Our Pros To Help With Your Electric Water Heater Needs in The Colony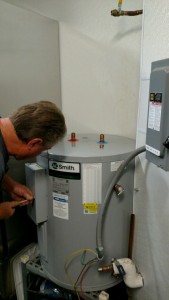 When it comes to electric water heater services in The Colony, you can rely on Jar-Dab Plumbing, Inc. for top-notch expertise and exceptional customer satisfaction. Contact us today at [phone number] to schedule a service and experience the difference we can make for your plumbing repairs and electric water heater needs.
The Benefits of Electric Water Heater
Choosing an electric water heater for your home comes with a range of advantages:
Energy Efficiency: Electric water heaters are highly efficient, providing cost savings on your energy bills.
Reliable Performance: With advanced technology, electric water heaters offer consistent hot water supply and temperature control.
Durability: Electric water heaters are built to last, ensuring long-term reliability and minimal maintenance.
Space-Saving: Compact in size, electric water heaters are ideal for homes with limited space.
Eco-Friendly: Electric water heaters produce zero greenhouse gas emissions, making them environmentally friendly.
To enjoy these benefits and more, don't hesitate to reach out to Jar-Dab Plumbing, Inc.. Our team of experts will assist you in selecting, installing, and maintaining your electric water heater. Contact us today for a consultation!
Choose Jar-Dab Plumbing, Inc. for Your Electric Water Heater Service
When it comes to electric water heater service, Jar-Dab Plumbing, Inc. stands out from the competition:
Expertise: Our highly trained technicians have extensive knowledge and experience in electric water heater installation, repair, and maintenance.
Quality Products: We work with reputable brands and offer top-of-the-line electric water heaters that meet the highest industry standards.
Professional Service: Our team is committed to providing exceptional customer service, ensuring your satisfaction throughout the entire process.
Affordability: We offer competitive pricing without compromising on the quality of our work or products.
Reliability: Jar-Dab Plumbing, Inc. is known for its punctuality, reliability, and dedication to exceeding customer expectations.
By choosing Jar-Dab Plumbing, Inc. for your electric water heater needs, you can have peace of mind knowing that you will receive top-quality service and long-lasting results. Contact us today to schedule your electric water heater service in The Colony!
Don't Let Electric Water Heater Problems Disrupt Your Comfort
Without a properly functioning electric water heater, you may face various inconveniences and challenges. Imagine waking up on a cold morning in The Colony and discovering that your shower has no hot water. With Jar-Dab Plumbing, Inc., you can avoid these issues and ensure your electric water heater operates flawlessly.
Our expert technicians will diagnose and address any problems with your electric water heater promptly. From malfunctioning heating elements to thermostat issues, we have the expertise to restore your hot water supply efficiently and effectively. Trust Jar-Dab Plumbing, Inc. to keep your electric water heater running smoothly, ensuring your comfort and convenience year-round.
Seamless Transition to Tankless Water Heaters
At Jar-Dab Plumbing, Inc., we not only specialize in electric water heaters but also offer services for tankless water heaters. If you're considering upgrading to a more advanced and energy-efficient system, our team can guide you through the process.
Tankless water heaters provide a continuous supply of hot water on demand, eliminating the need for a storage tank. With their compact size and energy-saving features, tankless water heaters offer numerous benefits, including reduced energy consumption, longer lifespan, and space-saving design. Jar-Dab Plumbing, Inc. has the knowledge and experience to install and maintain tankless water heaters, ensuring optimal performance and efficiency.
Hire Jar-Dab Plumbing, Inc. for Your Electric Water Heater Needs Today
When it comes to electric water heaters, Jar-Dab Plumbing, Inc. is your trusted partner in The Colony. Whether you need installation, repair, or maintenance services, our team of professionals is ready to assist you.
Experience the convenience, efficiency, and reliability of an electric water heater by contacting Jar-Dab Plumbing, Inc. today. We are committed to providing top-quality service, ensuring your complete satisfaction. Don't wait - give us a call now to schedule your electric water heater service!
---
Frequently Asked Questions about Electric Water Heaters
Electric water heaters typically have a lifespan of 10 to 15 years, depending on usage and maintenance. Regular maintenance and prompt repairs can extend their longevity.
Yes, electric water heaters can be highly energy-efficient. However, the energy efficiency depends on factors such as the unit's size, insulation, and usage patterns. Our experts can guide you in selecting the most energy-efficient option for your specific needs.
Some common indicators of electric water heater problems include inadequate hot water supply, strange noises, water leaks, and fluctuating water temperature. If you experience any of these issues, it's best to have your electric water heater inspected by a professional.
It's recommended to have your electric water heater serviced annually to ensure optimal performance, prevent potential problems, and extend its lifespan. Regular maintenance can also help identify and address any minor issues before they escalate into major repairs .