The Colony Sewer Cleaning Service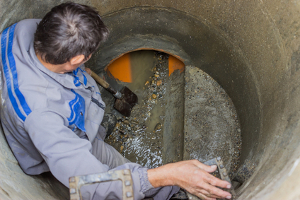 Your main sewer line is the most important plumbing component to your home and business. The main line is responsible for collecting all the debris of the other drains that are connected to it and for flushing the debris in the city sewer systems or to a private septic tank. Failing to address any problem you think you might have with your sewer line could result in a more significant problem. If your plumbing starts backing up or you suspect you need sewer repairs or sewer cleaning in The Colony then you should contact your local sewer repair professional before it's too late.
Clog Prevention
When most think about their sewers, they don't think about the repercussions that could happen when foreign objects and solvents are dumped into the sewers. One of the best ways to prevent slow or clogged drains is being mindful what you dump onto them. The following ways can prevent clogs:
Make sure that paper towels and sanitary napkins are not flushed down toilet
Make sure toilet has child lock
Do not dump oil or other non-solvents down drains
Causes of Clogs
Probably the most common causes of a clog are tree roots. Your sewers run underground as tree roots can block the flow. Roots will penetrate the sewer lines running from the house to the street. A thoroughly clogged sewer will cause a backup into your The Colony home. We will help you to avoid that and many other plumbing problems.
Drainage Problems
There are a lot of different types of waste that go through the home's drainage system. That is why there are plenty of reasons that sewers and drains get blocked. One of the most common plumbing problems is blocked drains. When this happens, you need to call in The Colony plumbers at Jar-Dab Plumbing, Inc..
Sewer Cleaning Equipment
At Jar-Dab Plumbing, Inc., we have the equipment that it takes to clean out your sewer lines. Our professional plumbers get on top of the sewer problem as they can handle all types of clogs, major and minor. We'll troubleshoot your sewer for possible backups and more.
Call Jar-Dab Plumbing, Inc. today and have The Colony sewer cleaning done professionally. You will be comforted by our techs that will arrive promptly to your residence and safely take care of your sewer drains to avoid possible damages.
The Colony Sewer Cleaning Professionals Provide:
Sewer line cleaning
Sewer drain cleaning
Sewer clean outs
Sewer and drain cleaning
Sewer repairs
Sewer pipe cleaning
Sewer cleaning services
Sewer line maintenance
Drain and sewer cleaning
Sewer line repairs
Sewer maintenance
Sewer line cleaner
---
Recent Sewer Cleaning Related Articles
Sewer Cleaning For Residential Homes in The Colony

If you live in a newer home, odds are that you don't often think much about sewer cleaning or maintenance of your drains. Most people in our country, however, live in older homes that are more susceptible to sewer clogs, blockages and breaks, and will eventually […]

Common Sewer Cleaning Equipment in The Colony

Sewer cleaning in The Colony is something that does not happen often but when it does, it means that there is usually some sort of clog in the drains or the pipes. The service is something that is done by drain and sewer cleaning professionals who […]