Services for Plumbing Fixtures in The Colony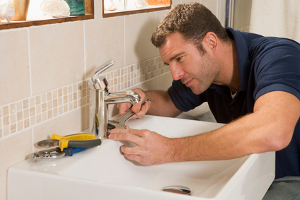 A dripping or leaking faucet, toilet or sink in The Colony may seem like a minor problem that you can overlook, but there are many reasons you should get it fixed soon. The leaking faucet will cause water to drip down and will eventually stain your sink and rust your plumbing fixtures. Drips and leaks also waste a lot of water— a faucet that drips five times a minute wastes approximately 230 gallons a year! Our expert The Colony plumbers at Jar-Dab Plumbing, Inc. are punctual, clean, and polite and some of the best trained in the plumbing profession. We repair all makes and models of plumbing fixtures and our trucks are fully stocked with faucet parts to assure you fast service.
Saving Money
Older bathroom plumbing appliances use too much energy. Often time they do not work. Repairs can help save you money when they are done professionally. Professional plumbing fixture repairs will save you on replacement costs.
Faucet, Toilet, Sink, and Shower Services
Faucet repairs
Sink installations
Plumbing fixture installation
Shower repairs
Toilet repairs and installations
Drain repairs
Plumbing Experts
There are plenty of things that we can do for your home whenever it comes to repairs, replacements and installations of The Colony plumbing fixtures. We make them happen as we have the tools and expertise. Your remodel will look professionally done when our plumbers take charge of it.
Drain Repairs
A drain is known to take waste water away from your The Colony home. Normally drains are installed upon new construction but deteriorate and clog over time. This results in drain repairs needing done. Installations or repairs to the drains will make them fully functional.
Shower and Tub Conversions
Sometimes during bathroom remodeling, a conversion is needed where the pipes would need to be moved and relocated. Conversions are where a bathtub is converted into a shower or vice versa. We can relocate and install them.
Sink Installations & Repairs
Along with getting a new shower, a vanity will need a sink installation. Taking on the installations can result in faulty mishaps and ruin it before it even gets used. This is why it is important to hire a professional plumber.
Plumbing Fixture Repair Specialists
You can call for our plumbing repairs anytime that you need them because there is no reason to live with plumbing fixtures in The Colony that leak for prolonged periods of time. They will only end up costing you more when neglected.
You will be happy to know they will be done by experts in the plumbing field. Contact 972-625-0083 today and set an appointment to meet with ours.
The Colony Plumbing Service Technicians Provide:
Plumbing fixture installation
Bathroom faucets
Sink plumbing services
Toilet repairs
Shower installation
Sink installation
Faucet repairs
Kitchen faucets
Shower repairs
Bathroom plumbing fixtures
Toilet installation
Bath & shower faucets
---
Recent Plumbing Fixtures Related Articles
Choosing Plumbing Fixtures in The Colony

Your plumbing fixtures in The Colony are among the hardest-working items in your business. Fortunately, there are many suggestions to assist you in choosing them. The Uniform Plumbing Code sets fixture needs for the public area of your restaurant, primarily the restrooms. For the kitchen, and food […]

Home Plumbing Fixtures in The Colony

Home plumbing fixtures in The Colony are all the permanent, fixed items in your home which are connected to the plumbing system. This includes items such as the kitchen and bathroom sink, toilet, bath, shower as well as the tapware that service these items. The best […]
If you are looking for repairs or installations of plumbing fixtures in The Colony and North Texas, then please call 972-625-0083 or complete our online request form.