Gas Line Repairs in The Colony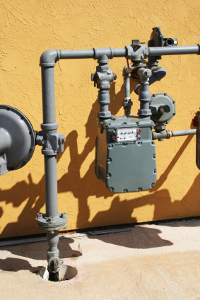 The gas lines that provide our homes with natural gas are essential to our everyday lives, but their importance is often overlooked until they need maintenance. Gas lines let us cook and heat our homes during the cold winter months. Plumbing lines bring clean, drinkable water into our homes to wash, cook and consume. While plumbing of one kind or another has been in existence for thousands of years, modern gas and water lines make our lives easier than ever. Because of this, it's crucial that your gas lines are correctly maintained and repaired when necessary. Call Jar-Dab Plumbing, Inc. for The Colony gas line repairs.
Gas Line Leak Repairs
Water and gas line repairs can be a costly service, but you can save significant time and money by making sure that you hire a trained professional. Never try to perform any kind of gas or water line repair if you are not a trained and licensed professional. Our The Colony plumbers can repair or replace your gas lines when needed.
Gas Line Installation
Gas is a clean and proficient fuel source that helps to heat home and cook the foods we eat. The best way to get lines installed is by plumbers who specialize in this type of work. There are certain areas of the home that are targeted for gas lines:
Furnace
Kitchen
Outdoor kitchen
Laundry room
Significance of Working Gas Lines
Today's gas lines add more value to the home than those of years past. Years ago; they were nothing but delicate hazards. Today they can be installed in any The Colony home. Now homeowners multitask as they can cook, clean and keep the home warm with natural gas.
Gas Line Venting
Gas needs to be vented. If a gas line is not vented, it stands the chance of exploding. Gas problems happen as leaks occur without warning. They should be always be taken care of by a professional who are knowledgeable.
Dangers of Gas Leaks
A gas line leak is nothing to laugh at. They are a serious danger that can lead to huge problems one of them being explosions. If you suspect that there is a leak in your lines, call our plumbers in for an inspection as we can locate the leak and shut the vale off before real damages occur.
The Colony gas lines repairs are important for remodeling and new construction as well as current. Contacting Jar-Dab Plumbing, Inc. will allow you to see how safe we can make your home. Call us today for your estimate.
The Colony Gas Line Repair Technicians Provide:
Gas line leak repairs
Gas line installation
Natural gas line repairs
Gas line repair services
Gas pipe repairs
Gas leak repairs
Home gas line repairs
Gas pipe leak repairs
Gas leak detection
Gas pipe installation
Gas line repairs
Natural gas line leak repairs
---
Recent Gas Line Related Articles
4 Signs Your Gas Line Could Be In Need Of Repair

If your gas line is old, defective, or malfunctioning, you could have a very serious issue on your hands. If your gas line isn't working like it's supposed to, it can cause some major problems in your home and can even be potentially fatal to you […]

How to Deal With a Gas Leak in The Colony

Natural and more efficient than electricity, gas is a popular home fuel. Natural gas is odorless and colorless, so deadly gas leaks in The Colony have the potential to go unnoticed. If you are scared of the possibility of a gas leak going undetected in your […]