Professional and Proficient Plumbers in Justin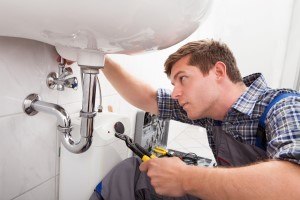 At Jar-Dab Plumbing, Inc., our Justin plumbers have the ability to ensure that your plumbing system always functions at its absolute best. Each of our team members is professionally trained and licensed. As such, we can help you with all your plumbing installation, repair, replacement, and maintenance needs. The one constant in all of our work is our goal to maximize customer satisfaction.
Call Jar-Dab Plumbing, Inc., today if you need to hire a professionally licensed plumber in Justin. Our staff is here to help you in any way that we can. We can answer any questions that you may have. Our team would be very excited to schedule your appointment today.
Plumbing Repairs in Justin
At Jar-Dab Plumbing, Inc., our Justin plumbers have the knowledge, skill, and experience to help you with all of your plumbing repair needs. We are adept at both routine plumbing maintenance and emergency plumbing repair services. We repair pipes, sewers, plumbing appliances, and fixtures. After our plumbing repair services, every portion of your plumbing system will operate effectively and efficiently.
Water Heater Installations in Justin
If your current water heater is old, inefficient, or unreliable, you should consider installing a new one. Your water heater is vitally important to your family's everyday life. As such, a new water heater can vastly improve your family's enjoyment of your Justin home.
At Jar-Dab Plumbing, Inc., our Justin plumbers can help you with every aspect of your water heater installation project. We specialize in installing both tradition and tankless water heating systems. Our experts can provide you with the information and advice that you need in order to choose the best water heater for your home. Through this customized approach, our Justin plumbers can provide you with a water heater that you and your family will thoroughly enjoy for years to come.
Drain Cleaning Services in Justin
When there is a clogged drain in your plumbing system, it can cause a major inconvenience for you and your family. Clogged drains make both plumbing fixtures and appliances malfunction. Also, they can be responsible for foul odors spreading throughout your home.
Fortunately, there is a very simple solution to this extremely common problem. When you are suffering from a drain clog, you should call our Justin plumbers for help. Through our drain cleaning services, our experts can completely clear the obstruction that is causing your drain to be clogged. Afterwards, your plumbing system will once again operate in the best manner possible.