How to Deal With a Gas Leak in The Colony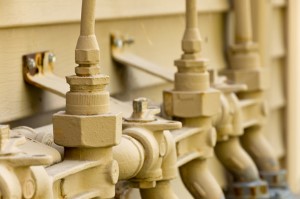 Natural and more efficient than electricity, gas is a popular home fuel. Natural gas is odorless and colorless, so deadly gas leaks in The Colony have the potential to go unnoticed. If you are scared of the possibility of a gas leak going undetected in your home, feel reassured that there are clear warning signs.
Some companies add a harmless chemical to create a distinctive odor, so that people can easily detect the presence of gas if it leaks. In an event of a strong odor in your house, evacuate everyone outside. Do not use phones or cellular, and don't make any type of electrical connection. Don't open doors and windows for ventilation. Once outside the house, call the gas company emergency line. You might even hear a "hissing" sound indicating that gas is escaping, only attempt to turn off your gas meter, but do it with professional guidance on the phone. If you don't hear a sound, but the test dial is turning when no gas appliances are on, then you might be facing a gas leak. In such a case, turn off the gas meter and contact your licensed plumber to have your installation checked. For your own safety, always get professional help to deal with the gas line system, it is no D.I.Y job.
Taking every day precautions can help prevent gas leaks in The Colony. Don't fix or service gas appliances yourself, unless you are a professional plumber. Keep your natural gas appliances in good working conditions and have them plus the heating system regularly serviced by a professional plumber. Don't leave any inflammable materials near gas appliances, and don't block ventilation openings. Keep gas ovens clean from fat or food debris.
Because of the risk of gas leaks in The Colony, running gas lines into your home will never be a D.I.Y task that can be taken lightly. Never try to repair a gas leak yourself, it is an emergency that should be handled by professionals only.