Plumbing Repair is No Pipe Dream, But Water Leaks Can't Be Ignored in The Colony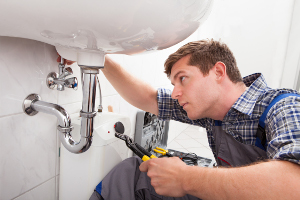 Most homeowners never give plumbing in The Colony a second thought until a loss of pressure or worse happens. Leaks can be very cheap to repair or very costly depending on where the leak occurs. If a leak does occur after the shut off valves from under the sinks or toilet it should only take a few dollars to fix. The homeowner can get into trouble with a costly and destructive leak if it happens to be inside a wall, foundation, or within the underground pipes. Trust your plumbing repair to the professionals.
100% of the time, newer home construction should never have any type of leak. As time passes, normal wear and tear, harsh chemical pipe cleaner, and debris can take a toll on pipes whether they are the older cast iron pipe, copper pipe, PVC pipe and so on. Some homes actually have clay piping that may need to be serviced and/or replaced, but this type of pipe is usually used for waste water. Most regions have different building codes from one another regarding the depth a pipe is buried, the type of pipe material, and even how pipes are fitted together.
Many times when a home was constructed, the site inspection may not have been performed with the proper attention to detail. Some pipe may not be buried to building codes and could be damaged from heavy weight from above. In many northern climates and older construction, where clay pipes have been traditionally used, lack of adhering to building codes may not even be a factor. What poses problems for clay pipes is time.
Clay pipes have a tendency over time to become more brittle with age and require The Colony plumbing repairs. Compounded with cold or even freezing temperatures, clay or terra cotta pipes can fracture. Another common problem of clay sewer pipes is as the pipes may expand or contract with extreme temperature changes, the joints will wear out. Again it's not a question of if they will fail, but when they will fail. Eventually the joints will degrade. When this occurs, it is quite common for roots from bushes or trees to infiltrate the joints and continue growing further into the pipe. In moderate to extreme cases, roots can even grow through a solid section of clay sewer pipe.
There are several ways to handle this specific type of problem. Most solutions require specialized tools or industrial equipment. Some methods can be very costly and involve replacing the old sewer pipes by digging trenches . There are some newer alternatives that are quite a bit less inexpensive, but not every plumbing repair company is equipped to handle this exact problem.
If there is a problem being experienced with a home's plumbing, it can be very time consuming and frustrating for the homeowner to figure out the cause. A little detective work can save hundreds of dollars though. If the problem isn't readily apparent, professional plumbing repairs in The Colony are usually the wisest course of action.