Simple Plumbing Repairs in The Colony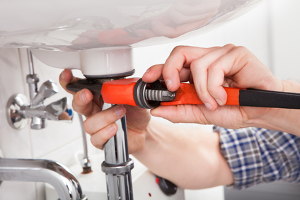 Plumbing problems in The Colony can crop up any time and unfortunately becomes evident just as quickly. While dialing the plumber at odd hours can resolve your problem, learning to fix simple plumbing problems on your own can save you a lot of hassle and not to forget a significant amount of money in plumbing repairs. So each time your flush wont work or your faucet starts leaking, repair your problems by yourself with these simple tips.
Before you start out with plumbing repairs in The Colony, it is a good idea to get acquainted with the common plumbing problems that can affect your home. Leaking faucets, toilet repairs, tub and shower plumbing, clogged drains and water heater repair problems are some that may come up from time to time.
To clear a clogged drain, use a chemical drain cleaner to clear the clogged up element in the drain. Most drain cleaners are highly caustic and can damage the water pipes, so use it with care. Now plunge the drain and clear out the debris and the hair that may be causing the blockage. Installing a strainer in the sinks can help keep the debris and the hair from blocking the drains.
To fix a leaking faucet, you need to first check if the parts of the faucet are old or worn out. Replacing them can easily resolve the problem. Sometimes the fault may lie with the washers or the seals. So instead of pressing down the faucet to stem the leaking, replace the washers and the seals in the faucet to fix the problem.
Running toilet problems are quite common. To repair this you can first try moving the handle which in turn can release the chain and stop the water from dripping. If this does not resolve the problem, then lift the toilet tank lid and check the rubber seal. This flap or seal stops the water from running into the toilet. If the seal is chipped or cracked, you might need to replace it to solve the problem of constantly running water in your toilet.
In case of complex problems like those related to the electrical water heater systems or installing a septic tank, you will require professional help. Choose a good plumber in The Colony who is an expert at plumbing repairs and will not charge you a massive bill for simple everyday plumbing problems.