Types of Plumbing Repairs in The Colony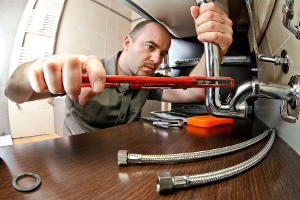 Having working plumbing is pretty important, wouldn't you say? Living with a clogged sink, bath tub, or toilet isn't really an option when you are trying to run a business or take care of a family. Professional plumbing services never go unappreciated when a pipe bursts or your sink leaks. Here are some of the most common plumbing repairs…
A very common type of plumbing repair in The Colony home or business might run into is having your water heater fixed. No home would want to go without hot water just like no place of business should go without hot water. This is especially true for the restaurant industry that relies on their water heater to wash dishes and keep the place properly sanitized. Your plumbing professional is capable of fixing any size and brand name water heater that is out there today.
The worst type of plumbing repair in The Colony that people tend to run into is having a pipe burst. This usually causes extensive damage if not treated fast and effectively. Your plumbing professional can come in and properly repair the pipe after it has busted. The best thing to do when it happens is to turn off the main water supply to the home or building to prevent further damage from happening. After the pipe is repaired you can your plumber check other pipes for small leaks and signs of damage so that you do not have another accident on your hands in the future.
Many professional businesses require their drains to be properly cleaned multiple times a year. This will help to keep a property sanitary, fresh, and help your entire plumbing system to work the way it was intended to. Having your drains clogged or backed up can cause an endless amount of damage to your pipes and system. Drain cleaning should be among the regular maintenance and service you have done at your place of business.
The Colony plumbing repairs should not have to be a headache for a homeowner or business owner. All it takes for your plumbing repairs to get done is a call to your trusted and local plumbing professional. You can expect to get a free quote on the work at hand, have the ability to schedule regular maintenance, and can feel confident the repairs will get done in a timely manner. You should not let plumbing repairs go untreated for too long because all that will cause is more problems down the road.